Ann Arbor, MI (November 9, 2018) – Three local teenagers are being recognized by the Humane Society of Huron Valley (HSHV) for their work in making a positive impact on the lives of animals and people in the community.
Claire Roffi, 16, was announced as the winner of the 2018 Humane Youth Award. In addition to volunteering at HSHV and helping shy dogs get needed socialization, Claire also volunteers for Last Day Dog Rescue and raises money for various other animal rescues through the Crafters Helping Animals program.
First runner-up Emilia Callan, 17, took a training course on how to care for young, bottle-fed kittens, then assumed the full responsibility of fostering– including around-the-clock feedings. She's also preparing to be to be a peer counselor in her school. Second runner-up, Kaitlin Barrett-Huff, 16, volunteers with her school's Link Crew and C.S. Mott Children's Hospital's Teen Advisory Council, in addition to being a Junior Volunteer at HSHV.
"It was difficult to narrow it down to three, as so many young adults are doing wonderful things in our community," says Karen Patterson, Director of Volunteers and Humane Education at HSHV. "We are thrilled to publicly acknowledge teens who lead by example, one act of kindness at a time."
This is HSHV's first annual Humane Youth Award. The winners received engraved plaques and will be acknowledged during HSHV's fundraising dinner, the Compassionate Feast and Roast of John U. Bacon.
"We can't wait to do this again next year," says Patterson. "Reading about—let alone meeting—the love and compassion of incredible youth here makes us hopeful for the future."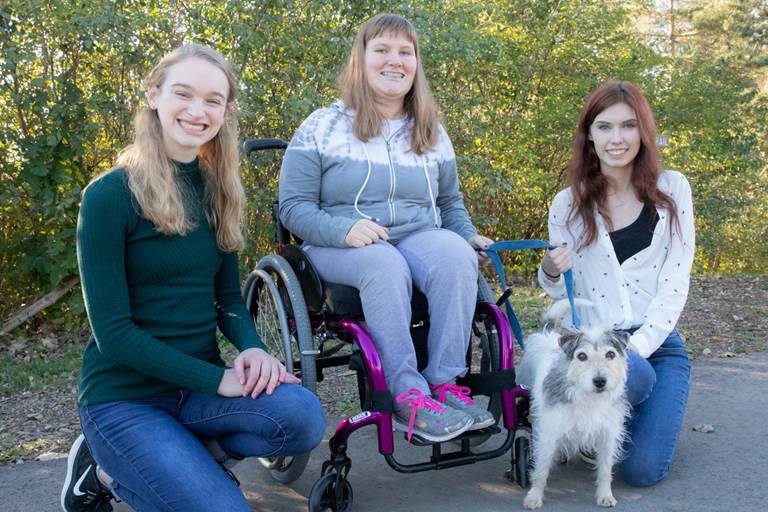 Featured (left to right): Claire Roffi, Kaitlin Barrett-Huff, Emilia Callan
About The Humane Society of Huron Valley:
The Humane Society of Huron Valley, located in Ann Arbor, is an independent 501(c)(3) non-profit organization and relies solely on the generosity of our supporters to provide critical community programs and services. HSHV is an award-winning organization, recognized for our best practices and highest animal "save-rate" among all similar shelters in Michigan. Charity Navigator, the nation's top charity evaluator, awarded HSHV a 4-star ranking, the highest possible. The mission of HSHV is to promote the loving, responsible care of all animals in our community. HSHV is not affiliated with any other humane organization and does not receive funding from the United Way. More information can be found on HSHV's website (hshv.org) and on our annual report (www.hshv.org/annualreport).
###