"Love Stays Here" digital collectibles will honor lost pets and support animals currently in need
Ann Arbor, MI (December 20, 2022) — The Humane Society of Huron Valley (HSHV) offers pet owners and lovers a lasting new way to honor lost pets with the "Love Stays Here" digital collectible and online memorial wall.
Digital collectibles are unique images with unchangeable identifying information that last forever.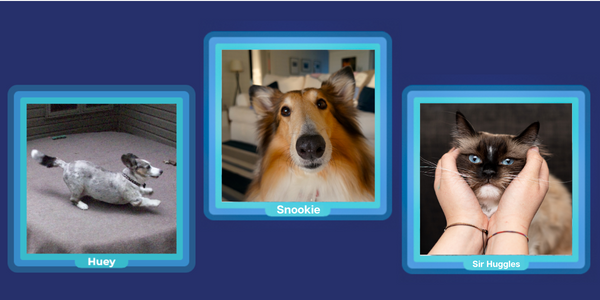 "And these beautiful remembrances carry the loving legacy of a pet forward by helping animals in need now," says Jaci Schaecher, HSHV's VP of Marketing and Development.
Those who wish to celebrate a past pet can mint a one-of-a-kind memorial for a donation of their choosing. That digital collectible will have a permanent place on the Solana blockchain, a global database that exists on computer throughout the world. (For more information, see Frequently Asked Questions.)
The unique image can then be shared with anyone and will be placed on HSHV's digital memorial wall.
"The process takes just a few minutes and is available to anyone with a few clicks," says Schaecher.
The "Love Stays Here" digital collectible is delivered using new technology by AirCatch that removes the key obstacles that prevented many from accessing the benefits of digital collectibles such as NFTs.
"No cryptocurrency or complicated cryptocurrency wallet onboarding is required," says AirCatch's Non-Profit Outreach Director Jason Sattler. "Yet these collectibles enjoy the permanence and authenticity that come from using the blockchain."
AirCatch makes using the blockchain as easy as email, with the hopes of expanding the utility of digital collectibles.
"We've donated our time and technology to the Humane Society of Huron Valley because we're animal lovers who are excited about using digital collectibles to help inspire more altruism in the world," says Sattler. "Great causes like HSHV now can share the benefits of these technologies with their supporters to create comforting and enduring memories that help support their good works. "
###
About The Humane Society of Huron Valley:
The Humane Society of Huron Valley, located in Ann Arbor, is an independent 501(c)(3) non-profit organization and relies solely on the generosity of our supporters to provide critical community programs and services. HSHV is an award-winning organization, recognized for our best practices and highest animal "save-rate" among all similar shelters in Michigan. Charity Navigator, the nation's top charity evaluator, awarded HSHV a 4-star ranking, the highest possible. The mission of HSHV is to promote the loving, responsible care of all animals in our community. HSHV is not affiliated with any other humane organization and does not receive funding from the United Way. More information can be found on HSHV's website (hshv.org) and on our annual report (hshv.org/annualreport).
About AirCatch:
AirCatch makes sending and receiving NFTs as easy and useful as email. Find out more at https://aircatch.io/