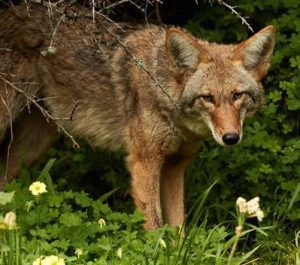 May 11, 2020 (Ann Arbor, MI) –   Have you spotted a coyote in your neck of the woods lately? You're not alone. Coyotes are highly adaptive and can thrive anywhere, including in wilderness, suburban, and urban areas. And they are an essential part of a healthy ecosystem, controlling rodent populations – and thus rodent-and tick-borne diseases like Lyme and Hantavirus – and protecting crops.
As the Michigan DNR points out, homeowners can take basic steps to discourage coyotes from their properties, and there are many ways for us to coexist peacefully with them.
"There is so much misinformation and hostility towards coyotes.   Such misinformation often leads to unnecessary panic and animal cruelty.  We want people to be armed with facts about how to co-exist peacefully and safely with these intelligent and beneficial animals," said Karen Patterson, Vice President of Volunteers and Humane Education at the Humane Society of Valley.
To help, the Humane Society of Huron Valley is offering a virtual class with coyote expert, Holly Hadac, on co-existing with urban coyotes.  Holly will discuss coyote behavior and feeding patterns, scientific data regarding coyotes in urban settings and offer humane solutions for coexisting with coyotes who may reside in or near your neighborhood.
Holly is a DNR Licensed Wildlife Rehabilitator with 23 years of experience.  She specializes in large mammals and coyote education.  Holly has worked with wildlife biologists trapping and studying coyotes in other states, and most recently was an assistant researcher with the Southeastern Michigan Coyote Research Project. 
The virtual class takes place on Wednesday, May 13th from 5-6pm via Zoom.  The one-hour session includes a 45 minute presentation and 15 minutes Q&A.  $5 fee.  Register here.
About The Humane Society of Huron Valley:
The Humane Society of Huron Valley, located in Ann Arbor, is an independent 501(c)(3) non-profit organization and relies solely on the generosity of our supporters to provide critical community programs and services. HSHV is an award-winning organization, recognized for our best practices and highest animal "save-rate" among all similar shelters in Michigan. Charity Navigator, the nation's top charity evaluator, awarded HSHV a 4-star ranking, the highest possible. The mission of HSHV is to promote the loving, responsible care of all animals in our community. HSHV is not affiliated with any other humane organization and does not receive funding from the United Way. More information can be found on HSHV's website (hshv.org) and on our annual report (www.hshv.org/annualreport).
###