Ann Arbor, MI (February 7, 2020) – Moving and can't take your pets? There's an alternative to taking them to a shelter: rehoming on your own. And the Humane Society of Huron Valley (HSHV) is making it less stressful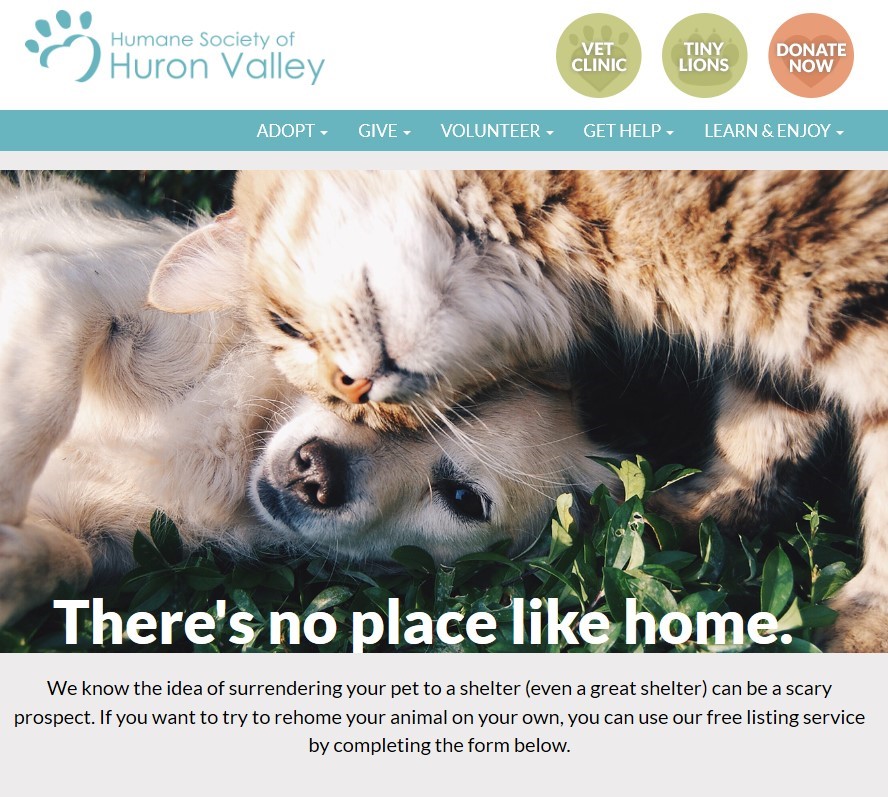 for local residents.
"Our heart breaks daily for people who are forced to surrender their companion animals because of landlord rules—or really any reason," says Karie McMahon, HSHV's intake manager. "And while we have a beautiful animal shelter, when animals have never known a home away from home, it can be especially hard on both people and their pets."
HSHV now offers a free listing service on their website, hshv.org where area residents can showcase the animals they need to rehome, along with a photo. And just as potential adopters can see the currently adoptable animals in HSHV's shelter, they can also see these private adoption listings, then contact the current animal's family directly for details.
"Our hope is that by providing folks with the necessary resources, they either discover they can keep their pets or can confidently rehome them, without a shelter stay," says McMahon, who also manages HSHV's Bountiful Bowls program, a temporary pet food assistance program, and Emergency Harbor, a free emergency shelter program for families in crisis.
"We also offer guidance to pet owners and adopters," says McMahon, "And if someone adopts an unsterilized animal from the private adoption listing, we'll help get that pet spayed or neutered."
HSHV took in over 6,000 dogs and cats in 2019, including stray animals unclaimed by owners, neglected and abused animals, and animals surrendered by owners.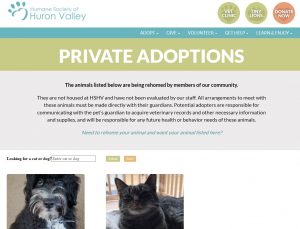 HSHV's rehoming listing service (www.hshv.org/rehome) launched in January. Within two hours the service had its first listing, and several companion animals were rehomed last month.
"We realize this is 'out of the box' thinking for an animal shelter," says McMahon. "And we encourage people to come to our shelter. But, as animal lovers, we also know that, for companion animals, there's no place like home. So we'll do what it takes to ensure that happens."
About The Humane Society of Huron Valley:
The Humane Society of Huron Valley, located in Ann Arbor, is an independent 501(c)(3) non-profit organization and relies solely on the generosity of our supporters to provide critical community programs and services. HSHV is an award-winning organization, recognized for our best practices and highest animal "save-rate" among all similar shelters in Michigan. Charity Navigator, the nation's top charity evaluator, awarded HSHV a 4-star ranking, the highest possible. The mission of HSHV is to promote the loving, responsible care of all animals in our community. HSHV is not affiliated with any other humane organization and does not receive funding from the United Way. More information can be found on HSHV's website (hshv.org) and on our annual report (www.hshv.org/annualreport).
For more information, please contact:
Wendy Welch, HSHV Communications Director
734.661.3527
###