Dateline: November, 2010
Five months was the longest I had been without a cat over the previous 50 years. What to do…head over to HSHV and see who might want to come home with me. That's how I met Uffda.
What a ride with him these past 10 years have been! Literally a ride, because he has logged at least 15000 miles as my passenger on several round trips between Michigan and Massachusetts in addition to a trip to Pennsylvania. He loved riding in the igloo bed secured in the passenger seat. Every time I reached a hand in there to check on him, he started purring and sometimes licked my fingers. It didn't matter where we went because he was always quick to make himself at home.
Let's face it – home is where the cat is, and Uffda has certainly made this house a home. It doesn't take much to keep him happy. Snuggle. Snooze. Eat. Play kitty games. Play hard! He's still a kitten at heart and will play with total abandon, often crashing into something while in hot pursuit, which has been his style since the first morning with me. That's how he got the name Uffda, a Norwegian expression for "Oops!"
Here's hoping for many more years with him.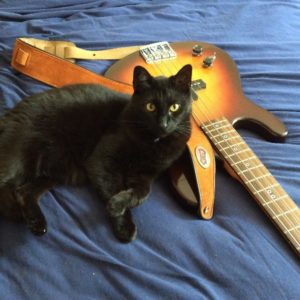 Puma now Uffda