Beginning Wednesday, June 17, the Humane Society of Huron Valley (HSHV) and their Tiny Lions lounge and adoption Center will reopen for limited public visitation.
"While we continually offered essential services including pet food assistance, intake of stray animals, and emergency veterinary care during the shut down, we're delighted to see more of the animal-loving community again and safely allow people to enjoy the benefits of animal interaction and vice-versa," says Tanya Hilgendorf, HSHV's CEO.
"H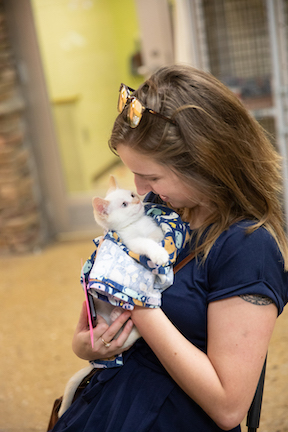 SHV takes the health and safety of our human visitors, employees and volunteers very seriously," says Hilgendorf. "We are following guidelines from the CDC, state and local officials, but are also fortunate to already be in a state-of-the-art animal care facility specially developed to prioritize health and prevent any potential disease spread."
The design of the facility, including enhancements such as an advanced HVAC system, and rigorous cleaning and sanitation practices serve to reduce zoonotic contagion between animals and people, but also help reduce disease spread between people. Both locations have additional safety measures in place, too, including limitation of the number of people in the buildings, facilitating social distancing, and wearing facial coverings. Masks, as worn by staff, will be given to visitors who do not have one; and hand sanitizer stations are readily available.
"Companion animals are so important to our health and wellness," says Hilgendorf. "Research shows they play a vital role in helping people avoid loneliness and isolation, so we want to be sure folks receive those benefits and that homeless animals get the loving attention—and loving homes—they need. We deeply appreciate how kind and patient our supporters have been and are so grateful to be able to phase up our services."
Starting Wednesday, June 17, HSHV will be open for pet adoptions 11 a.m. – 6 p.m. Mondays through Wednesdays, 11 a.m. – 7 p.m. Thursdays and Fridays, and 11 a.m. – 5 p.m. Saturdays and Sundays. Animals available for adoption can be seen at HSHV.org/adopt, and people are encouraged to call 734-662-5585 with questions. Tiny Lions lounge and adoption Center will be open for kitten visitation 12 p.m. – 7 p.m. Wednesdays through Sundays, and people are encouraged to make reservations at TinyLions.org. Visitor guidelines and other safety measures can also be seen on HSHV's website at hshv.org/visitor.